Specifications
Capacitance value measured at 1 MHz will be within tolerance limits.
Capacitors will withstand two times the rated voltage for one to five seconds without arcing. The charging current is limited to 50 mA.
Insulation resistance will be greater than 100,000 megaohms when measured at 100V DC.
D.F. as per graph below.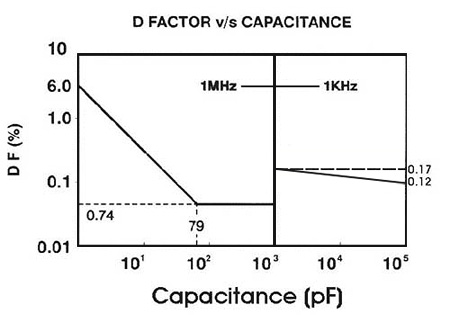 (for C < 80 pf and C > 1000 pf )
Operating temperature (-) 55° C to (+) 125° C.
Temperature Coefficient - C, D, E, F ( table below)
| # | TEMPERATURE COEFFICIENT PPM/ °C | CAPACITOR DRIFT |
| --- | --- | --- |
| C | -200 to +200 | +/-(0.5%+0.1pf) |
| D | -100 to +100 | +/-(0.3%+0.1pf) |
| E | -20 to +100 | +/- 0.1% +0.1pf |
| F | 0 to 70 | +/- 0.5% +0.1pf |